In an old machine factory, candidates for the Zeeland MIRG had to show they are fit to do the MIRG-work. They had to perform several exercises such as rolling out a 20 meter long fire hose, climbing a high ladder using a breathing air set, using a h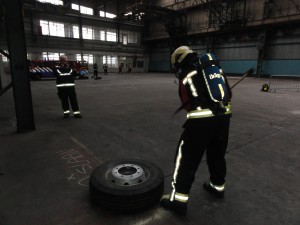 ammer to break in doors, climbing fences, and moving a fifty kilogram doll.
The firemen had to complete these tasks within eight minutes. They showed to be in a good physical condition as they all finished them within five and a half. They ended the test by being hoisted down from a fifteen meter high platform. 'This represents being lowered from a helicopter onto a ship', explains Sjaak Vermeulen, Commanding Officer of the Zeeland Fire Service. 'The men must show and experience that they do not fear this kind of work before we send them off to training.' He is not surprised by the good results: 'The men who applied know what difficult tasks await them, what is expected of them out at sea. They really want to this and know the job could fit them.'
All men come from the Vlissingen region. Vermeulen explains: 'We deliberately chose men from one fire brigade. They know each other well, know each other's qualities, have experience working as a team. That is very important when they go out to fight incidents in an unknown environment. Next to that, the men have experience with fighting fires on board ships. The Seaports of Vlissingen fall under our responsibility as well. And finally,MIRGs will set off to an incident from the Vlissingen Marine base. That means these men will be close by and can be present at short notice.'
Two more test sessions will follow this month. Then the final selection of 24 men will be made.