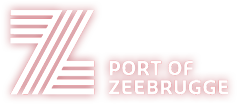 The port of Zeebrugge is managed by the Port authority/MBZ nv. This company is an autonomous company regulated by public law, the city of Bruges being the main shareholder. The company was established in 1895. The Port authority determines the port policy and is responsible for the technical, nautical and commercial aspects of the port management. The port of Zeebrugge is developed in a sustainable way. People, planet and profit are kept in balance.
The Port authority is responsible for large infrastructure works such as the construction of quay walls and jetties, terrain paving and road works. Also the maintenance of this infrastructure lies within its competence. Port terrains are given into concession to private operators. The private companies load and unload the ships of their clients and offer them storage facilities. In addition to the concessions, the Port authority has two other main sources of revenue : the duty on vessel tonnage and the duty on the vessel cargo.
The control of the maritime traffic, the operation of the bridges and locks and the surveillance and security within the port borders fall within the competence of the Harbour Masters Office.