Partners sign cooperation agreement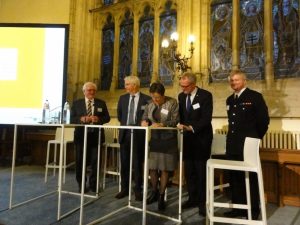 Wednesday 23 November the MIRG-EX project held its final conference in Bruges, Belgium. During the conference the audience was drawn into the world of maritime safety.
The project partners explained the concept of MIRG and looked back at the Full Scale Exercise which was held in October. With two case studies the importance of MIRGs was highlighted. The conference ended with the conclusion that the Full Scale Exercise and the MIRG-EX project were a positive development. They contributed to the further development and preparedness by providing a learning opportunity on various response levels and considered joint maritime incident response.
The end of the MIRG-EX project does not mean the end of the cooperation. In order to gain full benefit from the time, money, and resources that all stakeholders invested, it is vital that every potential learning opportunity is used from this event.
This conclusions was underlined by representatives of the four partner countries. They signed an agreement for future cooperation in Maritime Safety.