MIRG-EU tested on 18 June 2014
On 18 June the teams from the partner countries will be confronted with a simulated incident on board DFDS Seaways' cruise ferry Princess Seaways, which normally operates between IJmuiden in the Netherlands and Newcastle in the UK.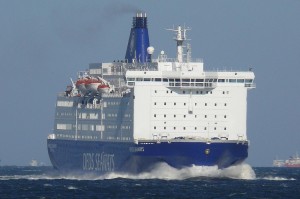 The exercise scenario is designed to test some key objectives. First of all the compliance of each partner with the MIRG-EU Standard Operational Procedures. Secondly the exercise will test the strategic, tactical and operational level of cooperation between partners responding to a fire on a vessel at sea, and thirdly their ability to carry out a formal debrief to share areas of best practice and capture lessons learned.
Preparations
All MIRG-EU members are preparing for the final exercise which will see each of them respond by helicopter to a large vessel on fire in the busiest shipping lanes in the World. As part of the preparation each partner has undertaken a tasking exercise to test their local arrangements from receipt of call to embarkation and has completed a tabletop incident command exercise within the ETE programme. In April the teams will do a complete mini-exercise, going through all procedures, within the simulator at Marcken-Calais. Then they must be ready for their final test in June. What the scenario will be, remains a secret until 18 June.
Steve Demetriou, Director of Operations at Kent Fire & Rescue Service said 'We are delighted that DFDS are supporting the MIRG-EU project and promoting a capability that helps to make the sea a safer place in which to work and travel. Fire remains one of the top three causes of loss for marine vessels in the world fleet so it is really important that ship's crew and operational firefighters are able to work together to mitigate its effects especially whilst vessels are out at sea'
Stephen Fairlie, Marine Standards Superintendent at DFDS Seaways, said: "We are very keen to support MIRG-EU in this key exercise, as they provide a vital role in fire and rescue efforts at sea across Europe. Training of this kind is crucial in our industry, where the safety of our passengers and crew at sea is paramount. This exercise also provides us with a great opportunity to provide our crew with additional training with these key organisations, which is always beneficial."
Final conference
The project partners are all committed to seeking continual improvement and learning and therefore internal and external observers will be invited to follow the proceedings of MIRG-EU and to give recommendations for improvement of the procedures. The results of the project and the final exercise will be presented at the project's final conference which will be held in Vlissingen in the Netherlands on 17 September 2014. International speakers will elaborate on the future of MIRG-EU and how the skills and knowledge of the team can be most effectively deployed in western Europe.
MIRG-EU is proud to work with DFDS Seaways and collaborate on this large scale exercise to test both DFDS Seaways and MIRG-EU emergency procedures. The ferry operator will provide Princess Seaways for the MIRG-EU large scale exercise, making this final test as realistic as possible for both the ship's crew and the firefighters. Princess Seaways was built in 1986 and renovated in 2006. It operates a daily car ferry service between IJmuiden and Newcastle and has room for over 1,300 guests. With its range of onboard restaurants, shops, cinema, bars, cabins and kids play areas, – it will challenge the skills of MIRG-EU.
Technical Details:
• Length: 161 m
• Width: 27 m
• Gross Tonnage: 31360 GRT
• Cruising Speed: 20 Knots
• Number of Cabins: 501
• Cars: 580
• Passengers: 1600
• Electrical system: 220 V. AC
• Engine Output: 19600 kW