All partners agree on Operations Policy Manual
Today representatives of all MIRG-partners put their signature under the Operations Policy Manual. This manual, prepared by the EU (INTERREG IVA 2Seas) MIRG Project Group, provides the framework to support cooperation between partner states when responding to incidents requiring a Fire & Rescue Service response at sea. It will improve safety for residents within and visitors to the INTERREG IVA Region of the European Union. After the signing ceremony the Antwerp Fire Department demonstrated what a MIRG team will do once a call comes in.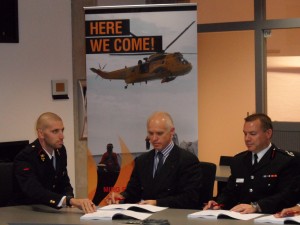 Background
The European Interreg IV A 2Seas MIRG-EU project brings together fire-fighting teams from Zeeland (NL), Antwerp, Beveren and Ghent (BE), Calais (FR) and Kent (UK). Jointly they establish international, specialist teams called Maritime Incident Response Groups that can expertly respond to incidents on board ships. The fast and effective intervention of these teams in the case of fire or incidents involving hazardous substances prevents victims and evacuations at sea and helps to combat environmental pollution. Once the incident is under control the ship can be taken to a safe port. This limits the inconvenience to other shipping traffic as much as possible.
An international fire-fighting team
Each country supplies its own MIRG team. Together, all the country teams form a single MIRG-EU team. The teams can relieve each other in the case of protracted incidents. Each partner country normally follows its own national fire-fighting protocols, uses its own equipment and complies with its own training requirements. In this international context it is essential that the teams are coordinated. This means they can deal with incidents using the same methods, use interchangeable materials, have the same training and use the same terminology.
All this is regulated in the jointly formulated Operations Policy Manual. It describe the exact policy and procedures the MIRG EU must comply with in the event of an incident.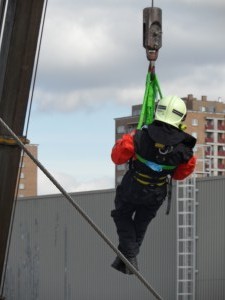 Many journalists were present. Watch their coverage via these links (all in Dutch).